Kilimanjaro
I'm currently cycling to Tanzania, to read more about it check out my blog!
Want to know where I currently am?
You want to join me on this expedition to the summit? The start is on the 23rd of June till the 2nd of July! Contact me for more details at veyt.jelle@gmail.com or visit this page!
The traject to Kilimanjaro (5895m) takes me from Belgium south to the strait of Gibraltar, a small water crossing which separates Europe from Africa. A kayak will take me to the 4th continent. This beautiful continent will allow me to show and share the beauty of it! An 18.000 km cycle trip will take me along the African west coast and through the Sahara desert. Then I cycle on south to Senegal, Togo, Benin, Nigeria, Angola… From there I'll cross the mainland to Tanzania and get to the summit of the tallest freestanding mountain in the world!
cc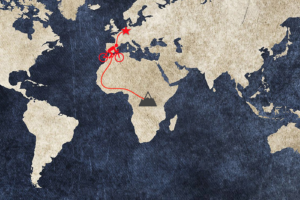 ccc