Carstensz Pyramid
The 3rd of October 2016 I headed to Kathmandu to cycle through India, Myanmar, Thailand and Malaysia. This trip took me 5500km in 1 and a half month. From Malaka, I wanted to cross the Malaka strait to Dumai (Indonesia) by sea Kayak, but weather and logistical complications restricted me to finish this part. As soon as I sort out the logistics and administration for this I'll complete the small crossing. After taking a ferry I cycled another 1500km to arrive in Jakarta to head back to Belgium.
ccc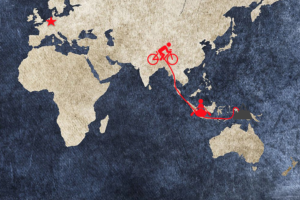 ccc
In Java I continued cycling to the east. Because of delays with the transportation of the boat the seasons weren't in my favour anymore so I delayed this expedition for 6 months. The preparation involves many aspects: rowing, route finding, sorting out logistics, finding places to restore food,… To get to the base of Carstensz Pyramid I'll have to make a detour of about 1000km rowing. The gold and copper mine at the south of the mountain restrict me of getting even close by. Until now the only option seems to go from the north near Nabire (Papua).
ccc
At this moment I'm on my way to Papua, check out my Blog to find out more about this adventure!