Projects
Shangrilahome
ccc
Shangrila Home vzw is a home for streetchildren in Kathmandu Nepal. It is founded in 1995 and developed by 2 Belgians : Inge Bracke and Paul Jacobs. Inge lived in Nepal and began by trying to feed the street children of Kathmandu but this was never going to be enough. These children had to sleep in deplorable conditions in the streets of Kathmandu. She started looking for a safe, sheltered place for them to live. This was the beginning of SHANGRILA HOME for street children.
dd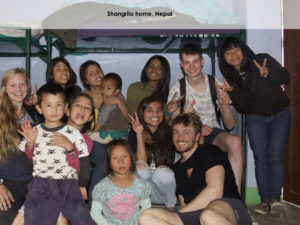 cc
dd
Presently, SHANGRILA HOME is a fully developed project, offering more than 80 children a warm home, food, medical care, education and a lot of love and care from the many volunteers who've been working there over the years. All volunteers receive only board and lodging, but it is still a very rewarding experience for all concerned.  Wim De Becker, an ex-volunteer who lives in Kathmandu, took over the management of Shangrila Home in 2006.  Paul Jacobs is the chairman of the organisation that does the fundraising in Belgium.
ccc
I want to give those children opportunities in life like I once had. Help me to support these children by donating on through their website www.shangrilahome.org or on their bank account:
IBAN : BE86-0682-2248-1550
BIC : GKCCBEBB
ccc
Trash Heroes, Kilo, Indonesia
During my 6 month rowing expedition I met Wahyu Di Udin on the Island Sumbawa. He is an Indonesian English teacher and environmental activist which we had an immediate connection with. We only stayed one night in his village but he clearly left a great impression about his work. He is volunteering to teach English in his village, the only fee he's asking is to help keep their beach clean. By doing this he creates awareness in his village and surroundings about pollution and how to deal with it.
My sponsor got to hear from them and now we're working together to help him pursue his goals more easily. We want to continue this beautiful project and inspire more people to do so. If you want to help to expand his goal, please get in touch: veyt.jelle@gmail.com or +32472826615. More about this later.