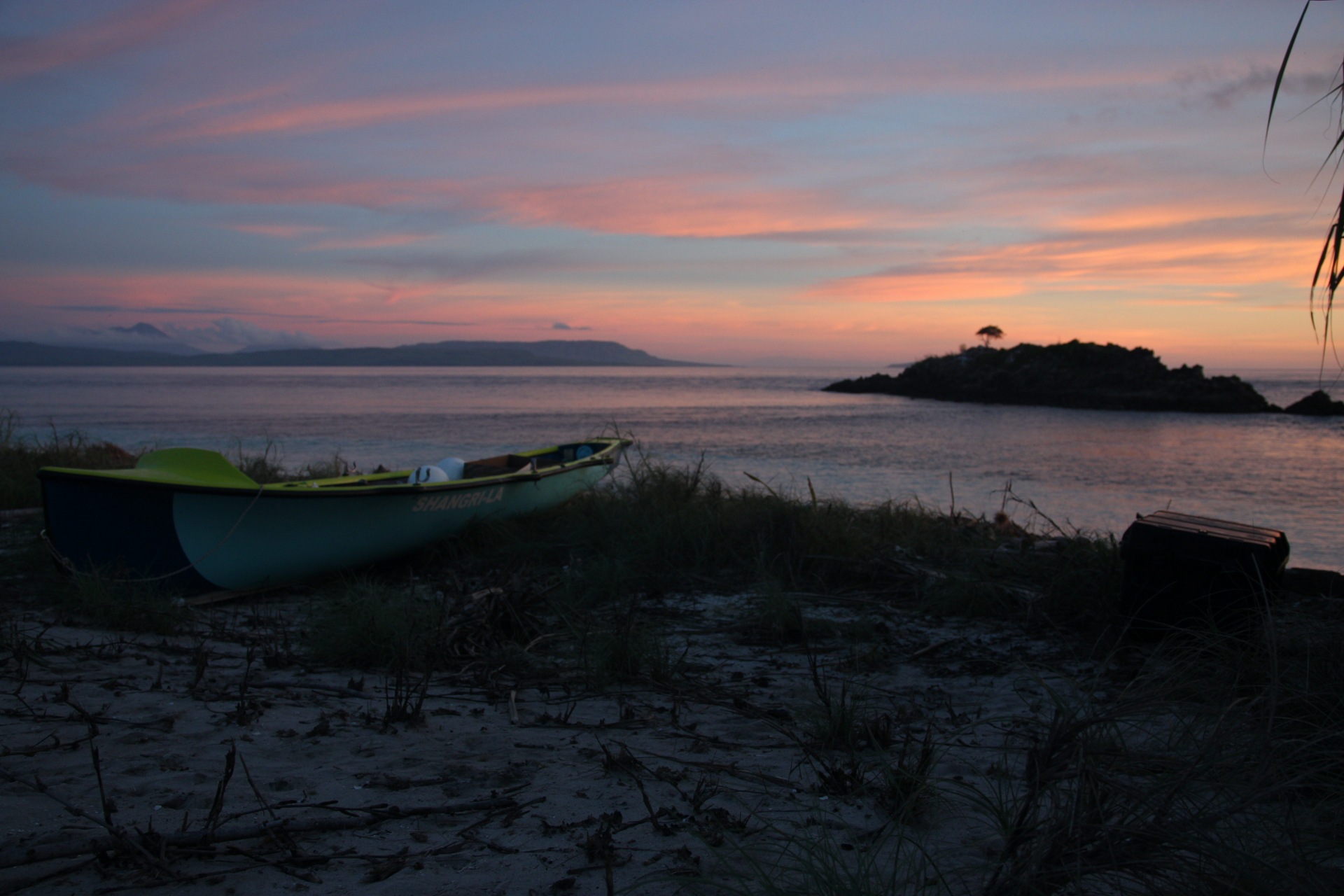 Going solo going hard
February 10, 2018
It's been a while since I had decent internet access. There is so much I've been doing in that time, so many experiences, good and bad. I learned some hard lessons but it was worth it going out on my own
cc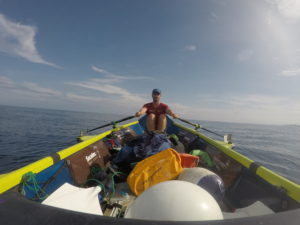 cc
After a couple of first 'easy' days the wind and swell picked up. The first day in this changing weather there was a lot of rain and suddenly I got caught in a thunderstorm. I saw a mass of black clouds coming after me, very fast. I rushed to land but it was too late, fortunately it was over as fast as it came and I could continue. That's the first time I felt really vulnerable in the boat being alone. It is a fantastic boat, being stable, but with the high winds it became really difficult to keep control of it on my own.
cc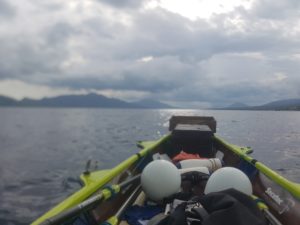 cc
The next days were hard until I reached Lato beach. There I was able to row in between some bigger breaking waves on the coast and with a correct timing landed pretty well. There I pitched the tent and heard that the upcoming week more wind and swell was to be expected. The villagers suggested taking my boat to Larantuka by truck. I didn't want to lose too much time so I said yes, I only needed to do that part in another way. I borrowed a bicycle and cycled/walked the 50 km to Larantuka. A crazy day full of disaster, the bicycle broke down completely but at least I did this part human powered as well…
cc
cc
From Larantuka I headed South to get more shelter, its seemed that the NW winds would still be going hard and I thought to get to the south coast. That first day everything went well but crossing the second strait to Pulau Lembata I had to round a cape. The currents where creating quite big waves there and I got a couple of them over me. The wind going so strong I was afraid getting blown to the rocky faces, just to make it worse I lost an oar in the water which I was able to retrieve. The next village I decide to stay until the weather clears, I don't want this anymore. I learned from the locals that the cape (dragon's cape) over there already took many ships to the bottom of the sea. I should've stayed north obviously, I did much more research about that part. After a couple of days sleeping at the beach of minga village, where I got welcomed extremely well, I left. The villagers helped me get through the surf which still pounded at the beach ( I learned that this is a great surfing spot).
cc
cc
As quickly as possible I wanted to get out of the big swells and wind so that day I pushed it into the Alor strait, a place notorious for its strong currents.I decide to follow the beach north-east and cross at the narrow part which is only 10km. One of the local fishermen said it would be okay to cross at a wider part and let the current take me north, it seemed logical. But that timing the moon was at its greatest declination which creates the strongest currents. The tide rips where creating too much breaking waves I had to go back to the coast again. Damn I felt miserable there. I was completely sick of it all and just wanted to quit at that point. I followed the coast more north where I found a quiet beach to land with some beautiful green grass to camp. I felt good again and got energy to cross the next day, only 10 km (about 2hrs) from there.
cc
cc
I decided to push hard and go for it the next morning. The tide was going out (creating a north going current) to help me push out of the channel. About midway I thought, this is it, all or nothing there is no turning back. And then again a big tidal rush pushing me from the side with lots of breaking waves, not too big (50-60cm) but lots of them. I decide to continue along with the waves so they don't hit me from the sides, but I don't feel safe at all. Honestly I've been very scared on this crossing. I tried to calm myself and keep focus, the more north I would go the less this current should be. And it was. When reaching the shore about 2Nm from Pulau Pantar I screamed it out that I made it. The boat did a great job, any less stability and it would've capsized, different waves rushing over me from different sides.
Cc
Cc
Now the extreme currents are over and I'm waiting for Koen ( the guy who built the boat) and Gerhard ( a Dutch rower) to join me from Pantar to Pulau Jamdena (or even Kai Ketjil). It's been both a great and terrible time here alone at sea and I must confess I made some mistakes. I should've sticked to the route and I shouldn't have crossed a strait which is notorious about it's currents at the moon's greatest declination…. What will come now is a row with bigger crossings, the largest one being about 120km depending on currents. Therefore these 2 strong rowers are joining, and therefore I was rowing in the rainy season in Indonesia. Many locals told me I chose the wrong season, but I know why. The season should be calming down in March, just at the timing we will have to do the bigger crossings. Then I should have a calmer 2 months, still a get daily weather updates from Karel Vissel who has been a great support on this trip. Check out this website www.kayakweather.com Together with my lovely girlfriend they provided me with essential information about route and weather on my route, thank you very much!!
Cc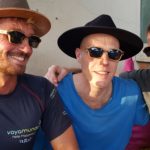 Cc
I went to Singapore to get a new visa, eat, drink and sleep a lot. There I met Grant Rawlinson, a Kiwi adventurour who has rowed from Singapore to Australia, cycled from west to east and is preparing to cross the Tasman sea. Then it's back to Bali to meet Koen and Gerhard and go to the boat where we'll continue with 3 people. Definetley looking forward to that!