Waiting, the reward
May 25, 2017
After getting the wrong info over and over again from the transportation company I almost went crazy in Indonesia. They gave me completely wrong information. At first, this made me decide for Koen (the boat constructor, C-row, www.c23.be) to come over by the following week, because the boat would have arrived by then for sure. Well, 3 weeks and many many frustrations later Koen left, without even seeing the boat.
….
…..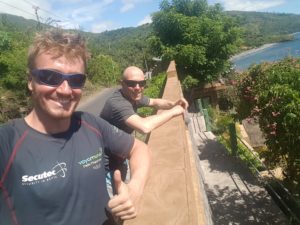 ……
……
The plan was that we would be rowing together for 3 weeks, including a crossing of the Lombok strait. The Lombok strait is quite a dangerous crossing with strong currents and a lot of traffic. Both of us where looking forward to get this one together. We tried to make the best out of it, but it left both of us frustrated.
The 15th of May, Koen left and so did I. My visa was about to expire and I had to do a visa run, which was never in the original plan. And off course, exactly when I was in Kuala Lumpur the boat arrived at my friend's (Cak Mancal) place in Surabaya. Luckily Cak was there to receive the boat and arrange transport by truck to the far east of Java, Banyuwangi. I'm very grateful to Cak Mancal and friends for all the effort they put into this.
…..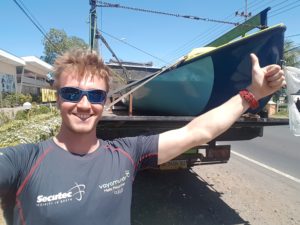 ……
The 17th of May I arrived in Bali again, where Malcolm Cockburn was waiting for me. He's an Australian veteran who's up for adventure. At the age of 54 he is really fit, he even swam the English channel last year. This fits in the values of the Vayamundo 7 summits, where one of them is active ageing. We want to motivate people of all ages to get into more activity, Mal is a perfect example for that! We decided a while ago that he would join me further up during my crossing. Because of all delays, we now met in Bali and took a car to Banyuwangi from there the next day. The boat finally arrived by truck at the resort and I was extremely happy of course. I thought I would never see that boat again.
….
…..
Another value of these Vayamundo 7 summits is environmental sustainability. Koen constructed the boat in a way to have an as low as possible impact on the environment, without compromise in strength and safety. He did a great job using Jute (a strong fibre from a plant) and recycled plastic bottles as the main component of the boat. At the same time I feel very sorry for Koen, who had put such effort into constructing the boat and had taken the time off of work to row together. That same day we attached the sponsor stickers and got everything sorted out to leave the next day. The boat got baptised the "Shangri-la", this to show my full support for the INGO Shangrilahome. I keep on raising funds and awareness for street children in Nepal and hope you will visit their website (www.shangrilahome.org) and help this beautiful project. This is actually the 3rd value of this project: international solidarity, not only the home but different projects will be featured during this vayamundo 7 summits!
……
……
Full of energy we start rowing the 19th of May. The first part is quite tricky, we need to row a couple of km's up the Bali Strait. A narrow channel with high (counter)currents. We still need to adapt to the rowing but after a couple of hours we made our way up and across the strait. At certain times the current was really strong where we barely had some progress against it.
……
……
The next days are nice rowing along the north coast of Bali. The biggest challenge here is the heat and is starts to exhaust us. There is no shadow on the water and we try to hydrate as much as possible. One time my tracker gives a temperature alert which is set at 50°C! We decide to take it slowly with an average of 30km a day, which is more then enough in this climate. We should've been rowing here during the rainy season, with currents and winds pushing us forward….
……
……
Well now it is what it is and I've decided to just see how far we go. This is adventure and I don't always know what will happen. I just know that my visa here will expire again the 15th of June and it doesn't make sense to keep on rowing here in July or August. I've got time so the plan is to get as far as possible without risking too much. Go back to Belgium, work, see my family, friends and girlfriend, starting to miss them a lot too. Then come back when the season is in our favour again….