Carstensz Pyramid
The 3rd of October 2016 I  headed to Kathmandu to cycle through India, Myanmar, Thailand and Malaysia. This trip took me 5500km in 1 and a half month. From Malaka, I wanted to cross the Malaka strait to Dumai (Indonesia) by sea Kayak, but weather and logistical complications restricted me to finish this part. As soon as I sort out the logistics and administration for this I'll complete the small crossing. After taking a ferry I cycled another  1500km to arrive in Jakarta to head back to Belgium.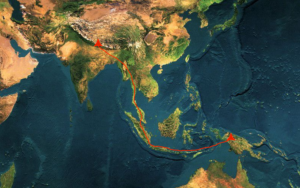 In Belgium I prepared for 2 months for the rowing expedition. First there will be a 700km cycling trip eastward and I'll be taking my custom built rowboat on a big adventure. A rowing trip of 2000km to Papua! This part I'll be doing a lot of island hopping and hope to cover this distance in 2-3 months. Once arrived in Papua, I'll be trekking through the jungle and get to the base of Carstensz Pyramid (4884m). The climb and trek in and out will take about a month and a half.
At this moment I'm on my way to Papua, check out my Blog to find out more about this adventure!